The 50-over format is one that has always aroused the interest of cricket fans. It includes a very fine blend of skills that one would find in both Test and T20 cricket. But that blend needs to be extremely precise. Too lopsided one way, or too many weaknesses in one aspect can neutralise your whole game.
It was at some point in 2013/14, that One-Day International (ODI) cricket started seeing bigger scores. On more than 65 occasions during these two years, teams breached the 300-run barrier. But there was something wrong with Pakistan as they only did so 5 times. There was a World Cup coming up, and the men in green were woefully unprepared for what was to transpire. A run-fest of epic proportions and Pakistan were playing a brand of cricket that belonged to past eras.
Pakistan's preparation for 2015 International Cricket Council (ICC) World Cup displayed all the signs of a team which was stuck in an old era of batsmanship, alongside the customary Pakistani trait, i.e. poor planning. From the end of the 2011 World Cup to the start of the 2015 event, Pakistan heavily relied on three top-order batsmen, namely Ahmed Shehzad, Mohammad Hafeez and Nasir Jamshed. Statistically and realistically, these batsmen were not suited to modern-day cricket. The only constant in the middle-order was Misbahul Haq and to an extent, Umar Akmal. As statistics will show, Pakistan was one of the poorest batting teams going into the 2015 World Cup in comparison to the rest.
Fast-forward to 2019 and there is a visibly different makeup to the Pakistani batting line-up, one that is more in-line with the modern teams, albeit not quite at the level of some of the top sides just yet. Pakistan have settled on a firm top three in the form of the belligerent Fakhar Zaman, the consistent Imam-ul-Haq and a star in Babar Azam. The middle order includes the experienced Mohammad Hafeez and captain Sarfaraz Ahmed. There's a new look to the batting order; it has an aura of respectability and you can back the batsmen to put up a fighting total, or chase down a large one.
As far as statistics are concerned, I have utilised a simple average*strike-rate metric to calculate a number which can serve as an indicator of teams' overall batting performances.

The number 2131 will interest us in the table above as it encapsulates Pakistan's below-average batting performances in the 2011-15 era which led to an 8th position on the batting table. Constant batting failures in a high-scoring World Cup were overshadowed by a determined battery of fast-bowlers, who took the men in green to the quarter-finals before losing to eventual winners and hosts, Australia. Pakistan endured a dismal period after that, being whitewashed by Bangladesh and falling to number 8 in the ODI rankings before the resurgence began. Going into the 2019 World Cup, that number has jumped up 1035 points from the 2015 disaster to 3166, the 2nd highest points increase after England, who have undergone a stunning ODI transformation of their own.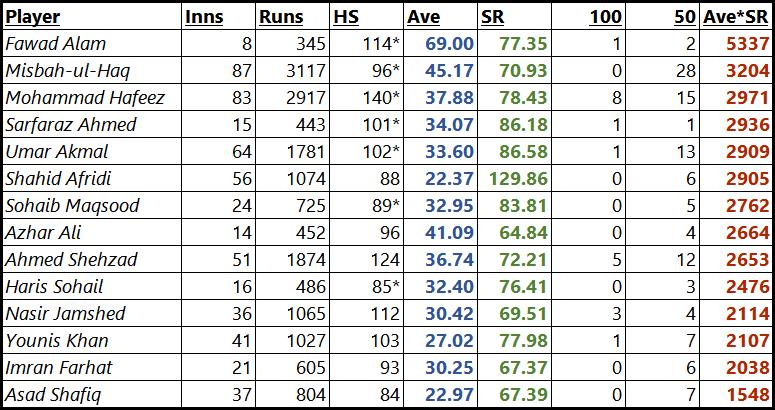 The above table displays a miserable picture. Pakistan fans for a lengthy period endured a comical era of batting where Misbah had to rescue the team, time and time again in pursuit of a 'respectable total'. Those with respectable averages had miserable strike-rates, and those with decent strike-rates didn't last long enough at the crease. Mediocrity was celebrated as being the norm, and one-off performances received adulation. All this culminated in the aforementioned disaster at the World Cup in Australia, where Pakistan only once surpassed 250 against minnows UAE, whereas other teams were focusing on 300 and beyond.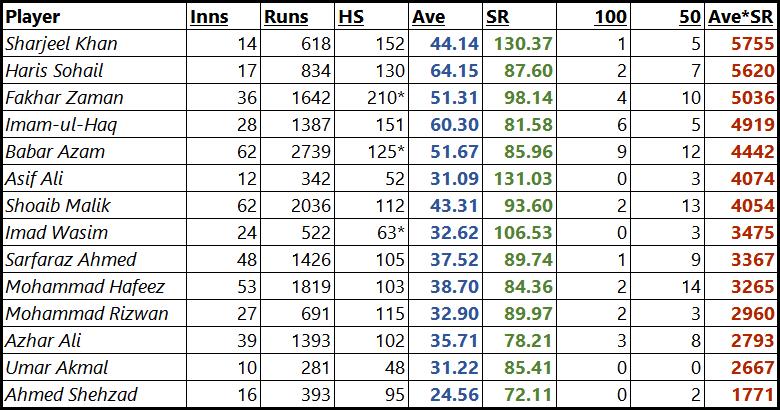 Four years on, most of the Pakistan batsmen have reached a far higher standard. Sharjeel Khan's short-lived tenure was the stuff of dreams for a Pakistan supporter, as he rivalled the best in the business with his stunning hand-eye coordination and appetite (for runs). Despite the blow of their best hope being banned for spot-fixing related charges, Pakistan have recovered. In Imamul Haq, Pakistan have a man desperate to score runs at the top of the order alongside the effervescent Fakhar Zaman. The likes of Babar Azam and Haris Sohail have proven to be consistent run-scoring outlets in the top and middle-order, something Pakistan lacked since the days of Mohammad Yousuf and Inzamamul Haq. Despite various short-comings, this batting line-up is far ahead of its predecessors and is in a much better position to compete with strong batting line-ups that are becoming the norm in ODI cricket.
Pakistan's new management, especially Mickey Arthur and Sarfaraz Ahmed can claim most of the credit for this turnaround, with help from the Chief Selector Inzamamul Haq. Yes, there is a lot to improve on. Pakistan got a rude awakening in the 2018 tour of New Zealand, where the batsmen took a month off. Then the Asia Cup happened. But the batters have bounced back, and shown they have the grit and method to adapt and compete. They do fall behind in some metrics; some of them play too many dot balls, while others don't hit many boundaries. There's no established lower order hitter, and some of the batsmen are guilty of not showing ruthlessness a 'la a Virat Kohli.
The change has been gradual, and improvement always takes time. Pakistan supporters have a tendency to focus on those missing ingredients, rather than the bigger picture. Support the team and support the process, which aims to take Pakistan to the level of those who are the best in the business.