In numbers: Yasir Shah better than Warne, Kumble after 40 Tests
The 34-year-old surpassed Australia's former cricketer Clarrie Grimmett who took 216 wickets in 37 Tests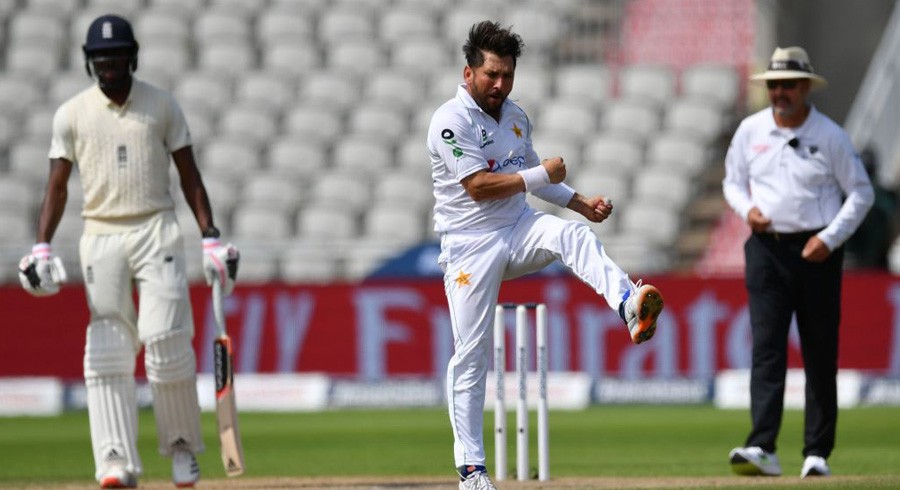 PHOTO: Reuters
Pakistan's prolific leg-spinner Yasir Shah has taken the most number of wickets by a right-arm leg-spinner, picking up 217 wickets after 40 Tests, after taking a four-wicket haul which helped the Men in Green dismiss the England side for 219 on day three of the first Test at the Old Trafford in Manchester on Friday.
The 34-year-old surpassed Australia's former cricketer Clarrie Grimmett who took 216 wickets in 37 Tests.
The list boasts legendary former cricketers who went on to become synonymous with the game itself. At this stage of his career, the charismatic Shah has taken more wickets than Australia's legendary former leg-spinner Shane Warne and India's legendary former leg-spinner Anil Kumble who took 187 wickets and 168 wickets respectively after 40 Tests.
Shah has also surpassed fellow countrymen and former cricketers Danish Kaneria and Mushtaq Ahmed in terms of wickets. Kaneria and Mushtaq had taken 169 and 164 wickets respectively during this stage of their illustrious careers.
The leg-spinner's latest four-wicket haul helped Pakistan at a crucial passage of play as the Men in Green looked to push their advantage after posting a good score in the first innings while keeping the England side under pressure with quick wickets.
Most wickets by a right-arm leg-spinner after 40 Tests:
217* - Yasir Shah
216 - Clarrie Grimmett (in 37 Tests)
198 - Stuart MacGill
187 - Shane Warne
175 - BS Chandrasekhar
169 - Danish Kaneria
168 - Anil Kumble
164 - Mushtaq Ahmed
152 - Richie Benaud