Misbah, Malik back Sarfraz to lead Pakistan in 2019 WC
Duo believe wicketkeeper-batsman is the right choice at the helm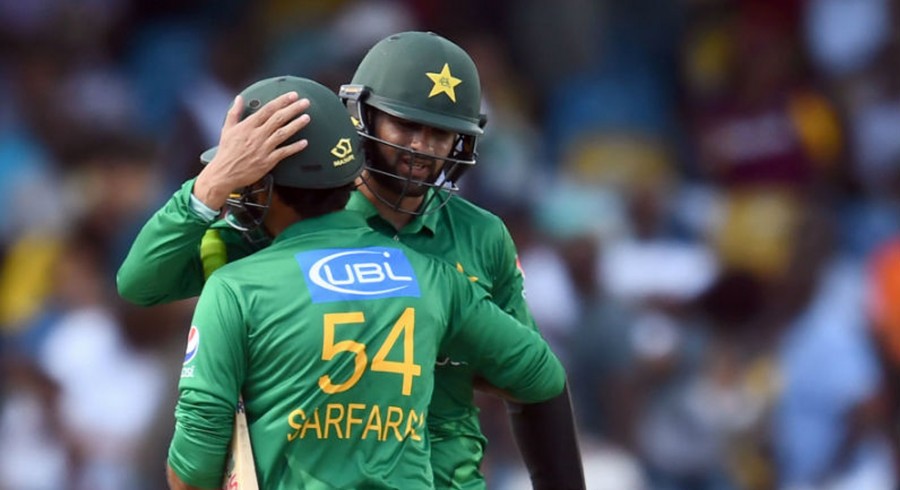 PHOTO: AFP
Former Pakistan captain Misbahul Haq and all-rounder Shoaib Malik have backed Sarfraz Ahmed to continue as captain of the Green Shirts till the end of 2019 World Cup in England and Wales.
Misbah — who represented Pakistan in 75 Tests, 162 ODIs and 39 T20Is — is of the opinion that Sarfraz should be trusted as captain till the World Cup because his leadership credentials are improving with every passing day.
"Sarfraz is improving as captain with each passing day and has been leading the side very well," said Misbah according to International Cricket Council (ICC) website. "All this talk of the captaincy being a burden on him or him facing problems with three formats is absurd. I am very much sure that he will do a great job in the World Cup too."
Misbah believes bad patches are part and parcel of the game but Pakistan Cricket Board (PCB) should end this debate about captaincy by officially announcing Sarfraz as captain for the upcoming World Cup as soon as possible.
"I think every team and player experience a bad patch in their career and Asia Cup was that bad patch for Pakistan," he said. "I know that that the players would learn from their mistakes and overcome them to excel in all formats from here on. I think this is the right time to announce Sarfraz as captain because we don't have much time left for the World Cup."
Meanwhile Malik said that it is important to persist with one captain for a long duration in order to provide stability to the side.
"I think it is important to give captain a long tenure and resist the temptation to change," said Malik. "We should avoid changing captain when the team loses few matches because it does not bode well for stability within the side."
He added: "The reason behind string of positive results after the Asia Cup debacle is that the PCB and selection committee did not panic and made wholesale changes in the side. I hope this trend continue in Pakistan cricket."