Pakistan fans made me realise importance of Pak-Ind fixture: Rizwan
Pakistan registered their first-ever victory against India in an ICC event last year; Shaheen Afridi, Mohammad Rizwan, and Babar Azam emerged as the heroes that day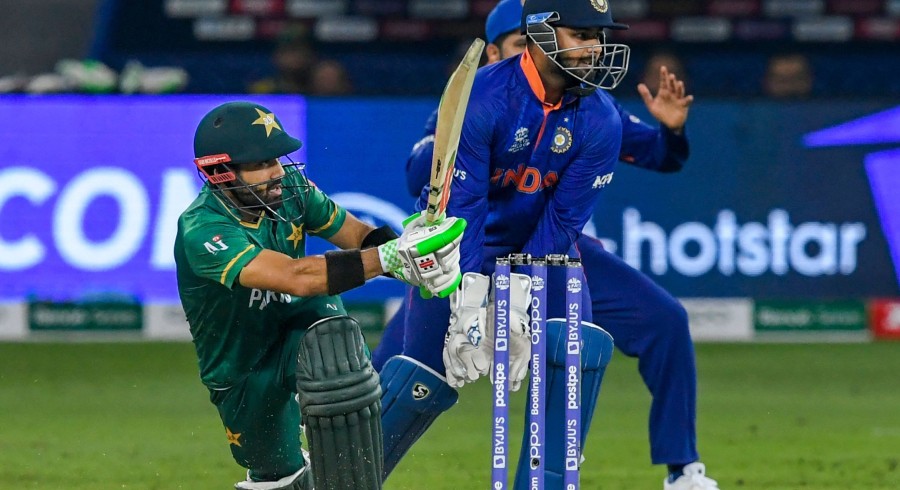 PHOTO: AFP
As the new schedule of the 2022 T20 World Cup was announced, the limelight was yet again stolen by the Pakistan-India tie which is scheduled for October 23.
Pakistan registered their first-ever victory against India in an ICC event last year; Shaheen Afridi, Mohammad Rizwan, and Babar Azam emerged as the heroes that day.
While in conversation with T20I cricketer of the year, Rizwan, he recalled the build-up to the game.
"I had an interview arranged with an Indian channel and they asked me how the nerves were. I just told them that, for me, playing against India is just like playing against any other opposition. Until we had won, it was just another game for me," Rizwan explained.
Since Pakistan had been longing for the victory for decades, and the manner in which Pakistan dismantled the Indian side, things were bound to get a little crazy with celebrations.
"The reactions from the fans and media after the victory made me realise that playing against India is not ordinary because there's much more at stake than playing against any other opposition," added Rizwan.
"I felt the love from everyone when we returned back from the Bangladesh tour and everyone was extremely happy and giving us their love. It was incredible," he further added.
Pakistan will come up against a new-looking Indian cricket team on October 23 at one of the finest venues across the globe - Melbourne Cricket Ground (MCG).
Looking forward the contest between both nations once again, Rizwan said he is looking forward to the match against India especially because of the fans.