Players' apprehensions led to HBL PSL 6 postponement: Wasim Khan
Wasim said that they explored various options before deciding to postpone the tournament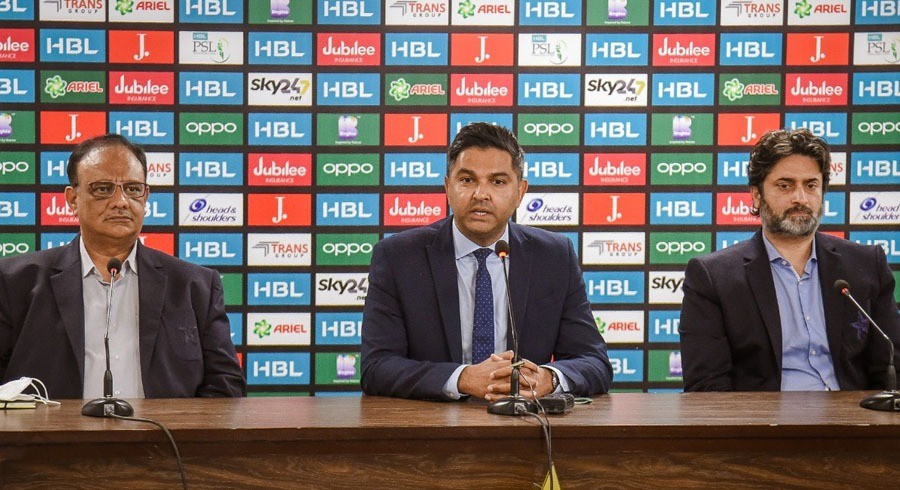 PHOTO COURTESY: PCB
PCB Chief Executive Wasim Khan has revealed that players were apprehensive about continuing the tournament, which ultimately led to the postponement of HBL PSL 6.
While speaking in a press conference on Thursday in Karachi, Wasim said that they explored various options before deciding to postpone the tournament.
"We had an option to postpone the league for five days until we make sense of the situation. However, the franchises informed us that the players were not in a mental state to continue. Hence, we came to the conclusion that it was best to postpone the event," said Wasim."We are slowly and carefully exiting players from our environment, so that we can safely get them out."
"We are going to explore various windows as we want to finish the tournament at a later time, just like we completed the playoffs of PSL 5," he added.
Peshawar Zalmi captain Wahab Riaz and head coach Darren Sammy had breached the bio-secure bubble before their first match against Lahore Qalandars this season. But the duo was allowed to integrate with the squad after filing a plea with the PCB.
Questions were raised regarding PCB's handling of the aforementioned matter. However, PCB Director Media Samiul Hasan Burney refused to blame the Peshawar Zalmi team for the spread of the virus.
"When Wahab and Sammy breached the bubble, they met Javed Afridi. When we put the duo back in isolation, their tests came negative. Javed Afridi also voluntarily isolated himself and his test also came negative. Since it was established that the duo had only met Javed Afridi, we decided to accept their appeal," clarified Burney in the press conference.
It must be noted that sixth edition of the HBL PSL was postponed indefinitely after eight individuals tested positive for Covid-19.