Shahid Afridi Foundation logo to feature on 'sponsorless' Pakistan playing kits
It must be noted that the PCB is struggling to find a sponsor for the side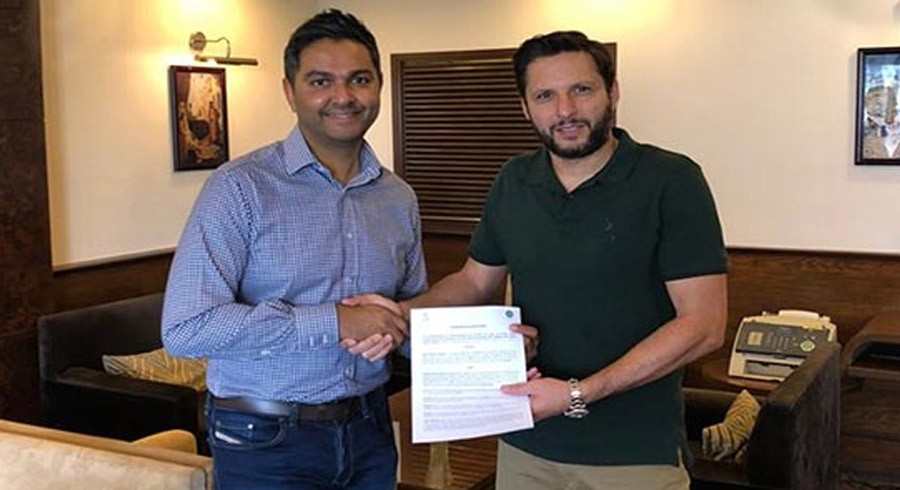 PHOTO COURTESY: PCB
The Shahid Afridi Foundation's logo will feature on Pakistan team's sponsorless playing kits, during the tour of England.
The charity foundation is run by legendary Pakistan all-rounder Shahid Afridi, whose appeal for donations to help people affected by the deadly coronavirus (Covid-19) in Pakistan has had overwhelming support from leading cricketers.
"We're delighted that the Shahid Afridi Foundation logo will be featured on the Pakistan playing kits, since we are charity partners to the PCB. Thanking Wasim Khan and the PCB for their continued support and wishing our boys all the very best with the tour," Afridi tweeted.
In May 2019, the Pakistan Cricket Board (PCB) had extended the scope of its Corporate Social Responsibility when they signed a two-year partnership with Shahid Afridi Foundation (SAF), one of the most respected and prestigious charity organisations set up by an ex-player.
It must be noted that the PCB is struggling to find a sponsor for the side, after only one company showed interest during the bidding process.
ALSO READ: Pakistan bowlers will struggle in England: Junaid Khan
The PCB's last sponsorship contract, with a beverage company, has already expired, which is why the Pakistan squad, in England, has no logo on its training kits.
Alarmingly, the company that stepped up in the bidding process has valued the deal at only 30 per cent as compared to the previous contract.
PCB is hopeful that they will get a sponsor on board before the beginning of the England series.