Shahid Afridi gives his verdict on Yasir Shah
Pakistan all-rounder was impressed with the leg-spinner's recent performances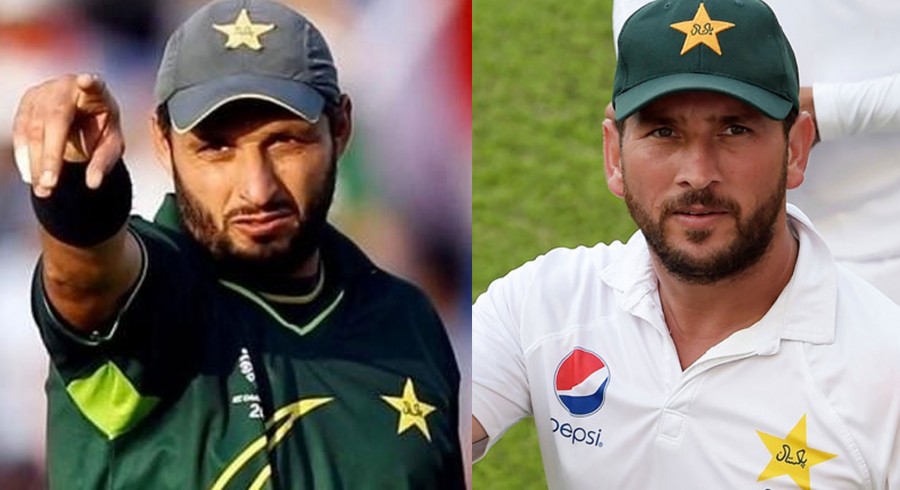 PHOTO: AFP
Former Pakistan all-rounder Shahid Afridi has termed Yasir Shah as the best leg-spinner in the world at the moment.
Sharing his thoughts during an interview with ESPNcricinfo, Afridi was pleased to see Shah playing a key role in Pakistan's victories and especially his match-winning performance in the second Test against New Zealand in Dubai.
"I think he is the best [leg-spinner] at the moment," said Afridi. "I think he started his career very well we were expecting more of him, but in the middle he was struggling to find his rhythm. He needed a big spell and that's what he did [against New Zealand] and regained his confidence back."
Shah ripped apart New Zealand batting as he went on to claim his career-best figures of eight wickets for 41 runs in the first innings of the Dubai Test. He claimed six more wickets in the second innings to level legendary all-rounder Imran Khan's record for most wickets in a single Test match for Pakistan.
The 38-year-old — who represented Pakistan in 27 Tests, 398 One-Day Internationals and 99 T20Is — also said that Shah's biggest strength is the consistency and variations in his bowling.
"I think he is consistent. His line and length is perfect and has variations. He can bowl leg-spin, googly and flipper which is helpful in Test cricket. And you know if you are consistent with your line and length and the batsmen — who are now playing aggressive cricket after the introduction of T20 and T10 cricket — can make mistakes," he said.
After announcing his retirement from international cricket in 2017, Afridi participates regularly in T20 leagues around the world — including the Pakistan Super League. He is currently playing for Pakhtoons in the ongoing second edition of T10 League in Sharjah.