Afridi backs Hafeez in debate over tainted players' return to cricket
The star cricketer emphasised the need for harsher punishments for corrupt cricketers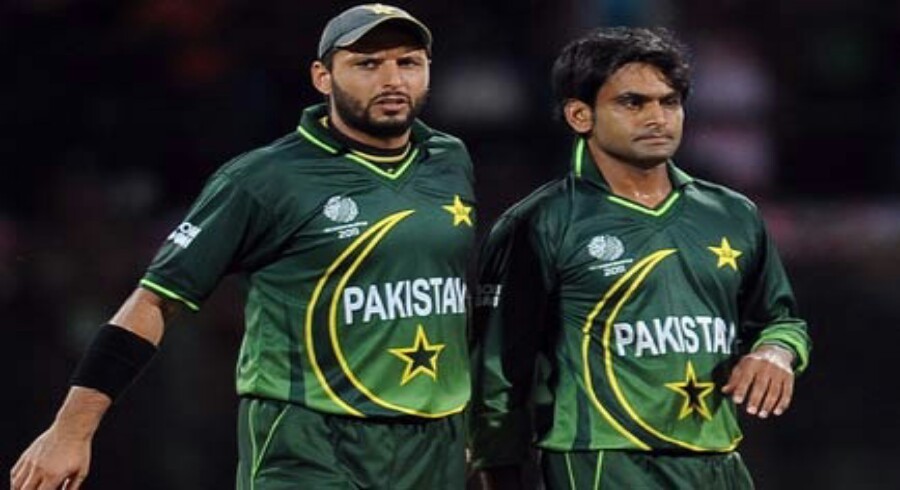 PHOTO: AFP
Pakistan star cricketer Shahid Afridi has come out in support of veteran all-rounder Mohammad Hafeez over his stance of setting an example out of corrupt cricketers.
Hafeez had recently questioned the possible return of tainted cricketer Sharjeel Khan into the national side. The all-rounder asked if a player's corrupt past should be overlooked if he has a decent skill set.
While speaking to a local news channel, Afridi emphasised the need for harsher punishments for tainted cricketers, in order to discourage other players from indulging in illegal cricket practices.
"I feel examples should have been set in the past but this didn't happen and that is why we have seen such cases on a regular basis," Afridi said. "I have nothing against anyone but even now if the Board wants to set an example it can do that. Only then can we hope to curtail such cases."
Earlier this month, hard-hitting batsman Umar Akmal was also issued a notice of charge for violating the Pakistan Cricket Board's (PCB's) anti-corruption code 2.4.4 twice. Akmal had failed to report suspicious interactions to the PCB in a timely manner.
Afridi expressed his disappointment over the 29-year-old's constant brushes with controversy and advised the PCB to do more in terms of educating and grooming young players.
ALSO READ: Availability of foreign players won't be an issue when PSL 5 returns: Javed
"Umar really needs to look at the company he keeps. He needs to get his priorities sorted out. He is a fine batsman but he can't keep on carrying like this," he said. "Most of the Pakistani players come through without any proper education and they are prone to falling prey to people who encourage corruption in the game."
"I just feel that the board must have a grooming and education program for these players. I think it is about how well you manage a talent. Umar is one example. But just telling them about the anti-corruption clauses is not enough," he added.