Technical flaw in Babar's batting during pre-lunch session: Raja
The 57-year-old believed that Babar was facing the ball with open shoulders which would prevent him from playing his drives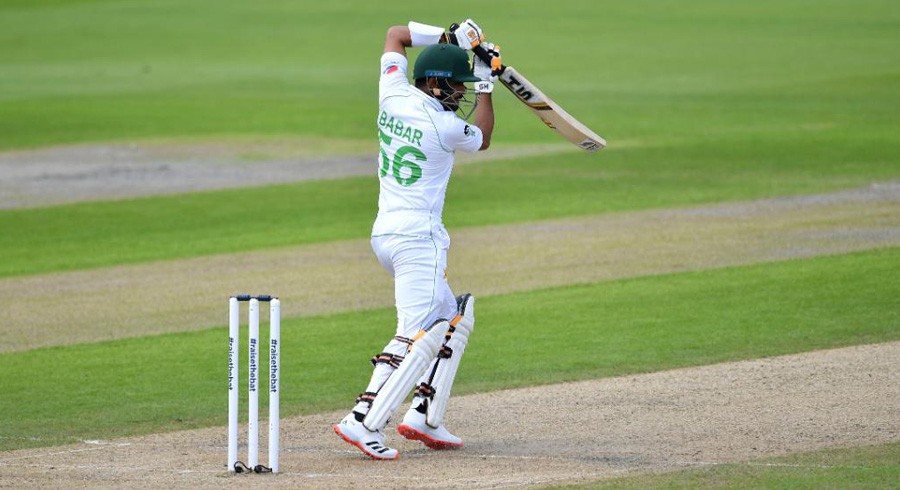 Photo Courtesy: ICC
Pakistan's former opener-turned-commentator Ramiz Raja, while answering fan questions during a YouTube video on Wednesday, claimed that there was a technical flaw in the batting of prolific batsman Babar Azam during the first session at Old Trafford in Manchester while facing England's hostile pace attack in overcast conditions.
The 57-year-old believed that Babar was facing the ball with open shoulders which would prevent him from playing his drives.
"Babar Azam, in cricketing terms, is facing the balls with open shoulders. When that is happening it means that your head position isn't right. The head is not locked in with the shoulder. When you open yourself up in that manner, facing the outswinger becomes problematic. This means that your drives will stop connecting," said Raja.
ALSO READ: It is not only his stats that are impressive: Nasser sings praises of Babar
"This is a small technical flaw that Babar will have to fix. I think it might be early hesitation and if he can fix it then he can play well. The middle session should be better for Pakistan. This first session was really tough and they have played it out," he added.
The former opener believed that the middle session would be easier for the Pakistan batsmen to negotiate because the real threat was the new ball at the start of the innings.
"Playing in England is all about negotiating the new ball. Pakistan has fought well in this first session. Shan Masood is standing at the crease; Abid Ali was always going to face bouncers. The strategy is really clear. Archer will bowl bouncers while Woakes will try to move the ball. I think the next session will be a bit more comfortable in terms of batting," he said.
Ramiz also stated that captain Azhar Ali was struggling because of his tendency to overthink in his capacity as both a batsman and the leader of the side.
"Azhar Ali seems to be over-thinking. He is over-analysing all aspects whether it is batting or captaincy. He should be more relaxed. It is important to switch on and off for a captain. You have to be turned on when the action is happening but you have to take a bit of time out when the action stops. He is putting too much pressure on himself," he concluded.